INTEGRATED THERMAL CAMERA
The camera on the DJI Zenmuse XT is developed by FLIR. It provides high-sensitivity (50mK) infrared scanning at 640/30 fps or 336/60 fps depending on the camera model. This sensitivity provides accurate temperature measurements ideal for analytics and telemetry. Both cameras are available with four lens options to meet different business needs. Stabilized and controlled by a custom DJI gimbal, it provides smooth, clear imagery and 360 degrees of seamless rotational movement.
Thermal Imager
Uncooled VOx Microbolometer
FPA/Digital Video Display Formats
640 × 512
336 × 256
Pixel Pitch
17 μm
Full Frame Rates
30 Hz (NTSC)
25 Hz (PAL)
30 Hz (NTSC)
25 Hz (PAL)
Exportable Frame Rates
<9Hz *
Sensitivity (NEdT)
<50 mK at f/1.0
Photo Formats
JPEG (8 bit) / TIFF (14 bit)
Video Format
MP4
Digital Zoom
2x, 4x, 8x
2x, 4x
Lens Options
7.5mm, 9mm, 13mm, 19mm
6.8mm, 9mm, 13mm, 19mm
APPLICATIONS
See the unseen. FLIR cameras reveal details invisible to the naked eye by making subtle differences in temperature visible. This new view on the world can reveal when equipment or buildings are damaged, the location of lost people and much more.
POWER LINE INSPECTION
SOLAR PANEL INSPECTION
SEARCH AND RESCUE
PRECISION AGRICULTURE
FIRE FIGHTING
*Thermal image courtesy of FLIR
IMAGE ENHANCEMENT SOFTWARE
Infra-red imagery requires optimization to ensure maximum definition for capturing information. The Zenmuse XT features a suite of image enhancements designed by FLIR including Digital Detail Enhancement™ (DDE); Smart Scene Optimization™ (SSO), which enhances extremes in bi-modal scenes; Active Contrast Enhancement™ (ACE) that adjusts scene contrast relative to its temperature difference; and Information Based HEQ™ (IBHEQ) which compresses complex image data to create the best quality image.
DIGITAL DETAIL ENHANCEMENT™
Before
After
ACTIVE CONTRAST ENHANCEMENT™
Before
After
SMART SCENE OPTIMIZATION™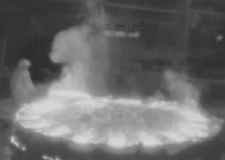 Before
After
INFORMATION BASED HEQ™
Before
After
*Thermal image courtesy of FLIR
FINGERTIP CONTROL
The Zenmuse XT can be controlled completely through the DJI GO app, providing a real-time, low latency view of what the camera sees, and instant access to core camera functions including:
Spot metering, temperature measurement at the mid-point

Digital zoom

Single or interval shooting modes

Photo, video preview and download

Take photos while recording video

Various camera settings and parameters including:

- Palette, also referred to as Look-up Table (LUT)

- Scene, also referred to as Automatic Gain Correction (AGC)

- Region of Interest (ROI)

- Isotherm mode
SEAMLESS EFFICIENCY
When used with either the Inspire 1 or the Matrice 100, the Zenmuse XT can be put into the air in seconds. It is seamlessly integrated, giving it complete access to key features including the powerful Lightbridge video transmission system (providing up to 3.1 miles (5KM*) of HD range), automated Point of Interest, Course and Home Lock, Follow Me, and the DJI SDK.
When combined with the Inspire 1, the Zenmuse XT works with incredible speed, efficiency and convenience. If used with the Matrice 100, the Zenmuse XT can stay in-flight for up to 35 minutes*, ideal for large scale inspections and especially useful in search and rescue scenarios.
MAX FLIGHT TIME
*Maximum range in open areas under optimal conditions free of interference.*Inspire 1: Flight times vary based on flight conditions, with a maximum 22 minute flight time being recorded when hovering with a TB48 battery using the Zenmuse XT gimbal camera.*M100: Flight times vary based on payload and flight conditions, with a maximum 35 minute flight time being recorded when hovering with dual TB48D batteries and no additional payload other than a Zenmuse XT gimbal camera.
**For civil/government organizations, research facilities, universities and other educational institutions, please call us for more information and for discounted pricing. We are familiar with the RFP process and accept PO's. Maverick Drone Systems is registered in SAM under "Maverick Drone Systems LLC." (CAGE# 7JW21).